Conservative

Objective:
The Conservative Investment Option seeks income and protection of principal.
Strategy:
This Investment Option is expected to be subject to less market risk and volatility than each of the other Investment Options, but is expected to offer lower potential returns. This Investment Option has a strategic allocation of approximately 10% U.S. equity securities, 5% international equity securities, 22.5% U.S. fixed income securities, 12.5% international fixed income securities, and 50% cash equivalents. The approximate percentages of the Investment Option's assets allocated to each Underlying Fund are: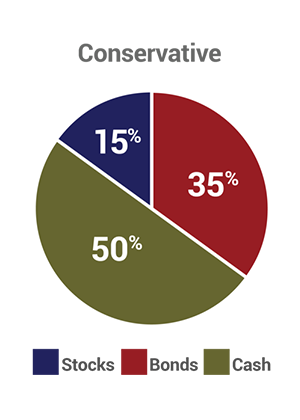 Risks:
The Conservative Investment Option has a number of investment related risks. For a list and descriptions of the risks associated with the Vanguard funds, see the Explanation of Investment Risk Factors and the Sallie Mae High Yield Savings Account – Investment Risks sections in the NY ABLE Savings Program Disclosure Booklet and Participation Agreement.
Have questions?
Call us at 1.855.5NY.ABLE (1.855.569.2253) Monday – Friday from 8 a.m. – 8 p.m. ET
New York State Relay System: 711 or 800-662-1220
No Guarantee: None of the State of New York, its agencies, Ascensus Investment Advisors, LLC, Ascensus Broker Dealer Services, Inc., nor any of their applicable affiliates insures accounts or guarantees the principal deposited therein or any investment returns on any account or investment option. Except to the extent of Federal Deposit Insurance Corporation (FDIC) insurance provided for the Checking Option, NY ABLE accounts will be subject to investment risks, including loss of the principal amount invested.
Investments are not FDIC-insured (Except for the Checking Option). No Bank, State or Federal Guarantee. May Lose Value.